Why Honeymoon on Nusa Penida Island?
Escape Bali during your honeymoon? Consider Nusa Penida Island - especially if the both of you love nature! Only 30 minutes away by fast ferry from Sanur harbour in Bali, it is a spectacular island to visit, known for its spectacular displays of nature. Nusa Penida has many beautiful cliffs and beaches to explore with your partner, including the famous Kelingking beach. Nusa Penida is good for diving too - it's the only place near Bali where you can see manta rays up close. Lately, a few fancy hotels have been developed on Nusa Penida, so there's some luxury options for couples visiting Nusa Penida now!
Explore Nusa Penida
Nusa Penida is culturally very close to Bali, being part of the Bali province and Hinduism as largest religion. However, since it is less overwhelmed by tourism, some people claim Nusa Penida resembles the way Bali used to be many years ago.
Like Bali, Nusa Penida has tranquil beaches in the northern part of the island and a wild ocean with large waves and spectacular rock formations in the southern part. Most of the hotels are located on the quiet north side of the island, while the most popular tourist attractions are concentrated in the south and southeast.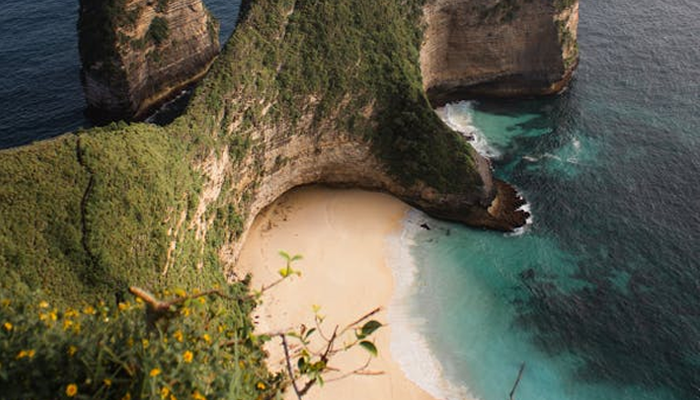 The famous Keling King Beach on the south side of Nusa Penida.
It is preferable to hire a driver with a car to navigate around because many of the roads are in poor condition and are not great for travel on a rental scooter (many people still try though!). Despite the small size of the island, it takes approximately 1 hour to drive from one side of the island to the other.
Nusa Lembongan and Nusa Ceningan are two smaller islands between Bali and Nusa Penida. While we believe Nusa Penida is the most intriguing of the Nusa islands to visit, if you are interested in diving, it may be worthwhile to look into the other islands as well. However, even though the islands are close, it is difficult to go via ferry from one to the other. Most ferries run from Bali to either Penida or Lembongan, but not between the two islands themselves.
While we recommend everyone to stay a couple of nights in Nusa Penida, it is possible to visit the island as part of a day trip from Bali. Check this link for more information.
Honeymoon Hotels in Nusa Penida
Nusa Penida has a limited number of resort-style accommodations. The level of luxury is definitely less than you would find in South Bali. However check the list below for some good options: resorts, hotels and even tents(!) for honeymooners to stay in Nusa Penida.
Honeymoon Activities in Nusa Penida
Get ready for some breathtaking views while exploring this island. Nusa Penida has a plethora of romantic settings for you to explore with your sweetheart, especially if the both of you love nature!
Romantic Dining in Nusa Penida
On the island of Nusa Penida, there is no such thing as fine dining. However that might be part of its charm. A few recommendations that we enjoyed are listed below. Besides, good quality Indonesian food can be found throughout the island.
How to get to Nusa Penida
From the airport, take a taxi to Sanur Harbour. From there, many ferries can bring you to Nusa Penida Island. During busy times tickets get sold out, so it is adviced to book a ferry ticket in advance.
The ferry trip takes around 30 to 45 minutes, and boats land on the north-west side of Nusa Penida. Be aware that there are a few ferry companies, and they might not all dock in the exact same area.
From most hotels in Bali, you can book a convenient ferry ticket with a car transfer from your hotel to Sanur Harbour included. This is super convenient, as you won't have to search for your ferry company's ticket office once you get to Sanur.
If the waves are too high, boats might get cancelled. This might mean you can't make it back to Bali. Plan your trip accordingly - keep some margin between your ferry back to bali and your flight out of the country!
Frequently Asked Questions
Where is Nusa Penida Island?
Nusa Penida is a small island off the eastern coast of Bali. It can be reached by ferry from Sanur Harbour in around 30 minutes.
How to get around in Nusa Penida?
It is preferable to rent a car with a local driver because the road conditions are not great. Alternative is to rent a motor scooter or use taxi's.
Is Nusa Penida or Nusa Lembongan better for a Honeymoon?
As a result of its distinct natural beauty, romantic beaches, fewer tourists, and larger size, we believe Nusa Penida is a superior option to Nusa Lembongan if you have to choose between the two.
How far is Nusa Penida from Bali Airport?
It takes 30 minutes by car to Sanur Harbour from Denpasar Bali Airport. From there you will need another 30-45 to reach Nusa Penida Island by fast ferry.
Is Nusa Penida a good honeymoon destination?
Yes, Nusa Penida is a beautiful island with beautiful cliffs and hidden beaches. However it doesn't offer the luxurious resorts and restaurants some might desire during their honeymoon.
How long should we stay in Nusa Penida?
It should take around 2 to 3 nights to see the entirety of Nusa Penida island.
Next destinations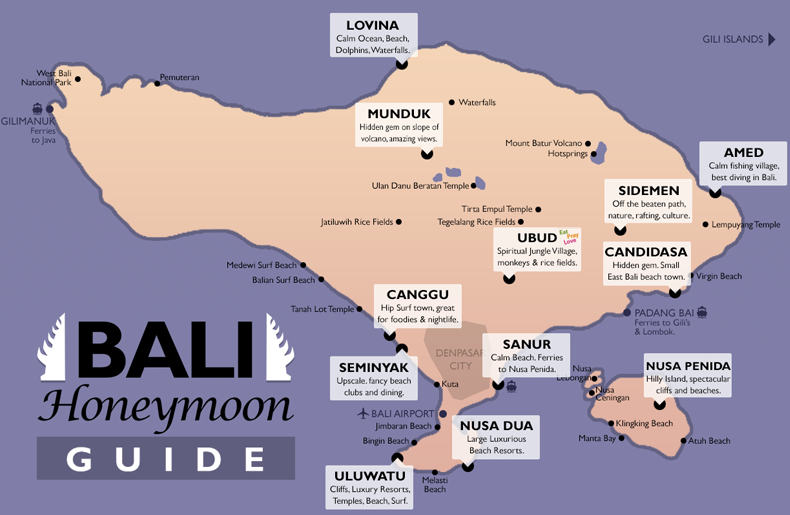 Bali Regions Map. When you return to Sanur Harbour, you have various options on where to go next. As you've probably seen many beaches in Nusa Penida, the inland jungle town of Ubud might be a welcome change! If you are looking for more cliffs and beaches but with some luxury hotel options, consider Uluwatu. Time to enjoy some nightlife with your partner? Canggu or Seminyak are your best bet. Continuing to stay away from the crowds is possible too: have a look at Lovina or Amed.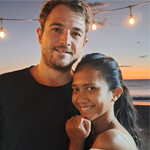 Written by Olivia & Dirk
Hi! We have put together this guide with a lot of care, based on our own experiences. As a couple, we have lived in Bali for the past 5 years, and we fell in love with the island. We have visited every corner of Bali, especially the romantic places ;-). While our articles do contain affiliate links, you can trust us to recommend only the experiences that we love.
Read more about us or let us help you organize your honeymoon for you!