Become a certified diver in Gili Air and dive some more in Amed
Imagine discovering a new hobby to share with your partner for the rest of your lifes, starting on your honeymoon! This itinerary is all about diving and getting your Open Water dive certificate. Get licensed in 4 days on the Gili Islands (a ferry ride away from Bali), and dive some more in the North Bali town of Amed. After plenty of diving, wrap up your trip in Ubud, the cultural capital in Bali's jungle.
Do you have your Open Water License already? In that case we would suggest spending a little shorter in the Gilis and spending an extra night or two in either Amed or Ubud.
Route Map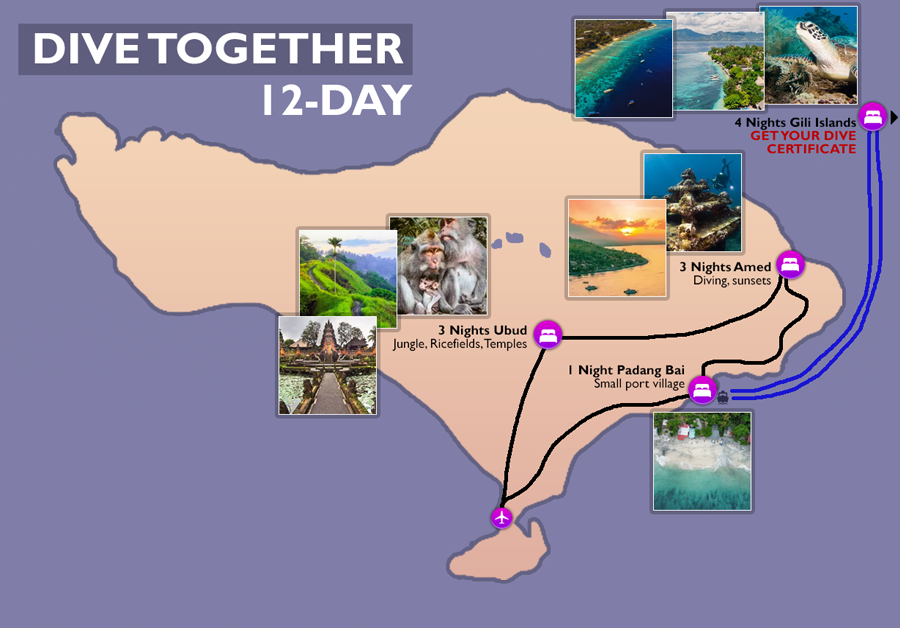 Get your dive certificate together in the Gili Islands, and dive some more in Amed.
Day by Day
Day 1: Unless your flight arrives super early, you probably won't make the morning ferries to the Gili Islands. Take a taxi to Padang Bai (1.5 hours), the harbour where the boats to the Gili Islands leave. We recommend staying at Bloo Lagoon Village for a night, a decent place to wind down after your flight and right next to Blue Lagoon beach, with crystal clear waters and monkeys!
Day 2: Take a fast boat to the Gili Islands (check baliferries.com for schedules). We believe Gili Air is the perfect island for a honeymoon, and loved our stay at (the very pink!) PinkCoco Gili Air. There are many reliable dive school in the area (see Google Maps), make sure to arrange your open water certification program with one of them in advance. An alternative budget option - but don't expect honeymoon vibes here - is staying at the Manta Dive Resort, where you can do your certification directly at the hotel (this is where Dirk got his open water certification).
Day 3, 4, 5: You'll be mostly focussed on your dives, wait till you see the underwater Turtle Heaven, but for sure there is time to explore above water too. Check out our Gili Air Honeymoon article for activities!
Day 6: After wrapping up your certification, it is time to get a ferry back to Padangbai in Bali, from where you can take a 1.5-hour taxi to Amed. Ask your driver to make a one-hour stop at the Balinese Hindu water temple complex of Tirta Gangga, as its beautiful and on the way! Maybe arrange this taxi in advance with your hotel, as the taxi's in the port of Padangbai are notoriously expensive. In Amed, we believe the Santai Hotel is a great option for divers (and the both of you are divers by now!), as the ocean with plenty to explore underwater is right in front of the hotel.
Day 7: Maybe you'd like to take a break from diving! Amed is a peaceful town with lovely beaches. Enjoy sunset from the Blue Earth Village in Jemeluk Bay. Check some more ideas for dining and activities in our Amed Honeymoon Guide.
Day 8: Time for a final dive, and we've kept the best for last. The USS Liberty, an American ship, stranded off the coast of Bali during the second world war. The wreck is located at a shallow location which has become popular dive site. Close to USS Liberty another spectacular dive site is worth checking out: the Tulamben Drop Off.
Day 9: Enough diving, time to decompress in the jungle! Let's get an early morning taxi to Ubud, which takes around 2 hours. If you want to end your honeymoon with a blast, book the Viceroy Bali, the best hotel you'll be able to find in Ubud, overlooking the Petanu river valley and still quite close to town.
Day 10: Enjoy Ubud town. We love the Tjampuhan Ridge Walk, but there are many other things to do as well. You can't go wrong with sunset with a cocktail at the Sayan House. An interesting cultural option is visiting a traditional Balinese Kecak Fire Dance performance in Ubud Palace.
Day 11: Your last day in Bali. If you haven't seen any rice terraces yet, consider visiting Tegellalang or (less crowded but further away) Jatiluwih Rice Teracces. Ubud also has excellent fine dining options, a great way to wrap up your honeymoon (check the list in our Ubud Guide).
Day 12: Time to check out! It takes around 1.5 hours to get to Bali Airport from Ubud.
Other hotels
While we believe the hotels above are great, there are many good options to choose from. Check out the articles below for romantic hotels at any budget:
More Bali Itineraries
Based on our 5 years in Bali, we have crafted 8 Bali itineraries with care. Check the full list below or read more information on our Bali Honeymoon Itineraries.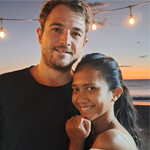 Written by Olivia & Dirk
Hi! We have put together this guide with a lot of care, based on our own experiences. As a couple, we have lived in Bali for the past 5 years, and we fell in love with the island. We have visited every corner of Bali, especially the romantic places ;-). While our articles do contain affiliate links, you can trust us to recommend only the experiences that we love.
Read more about us or let us help you organize your honeymoon for you!