Flying premium gets you to Bali in comfort, style and well-rested!
A fair amount of airlines are flying to Bali Denpasar Airport while offering business class, and some even offer first class seating. Most of these airlines offer full lay-flat seats to business class passengers, meaning you can have a proper sleep and arrive in Bali well-rested. While business class is more expensive than economy, you will likely not need to waste a day recovering from your flight.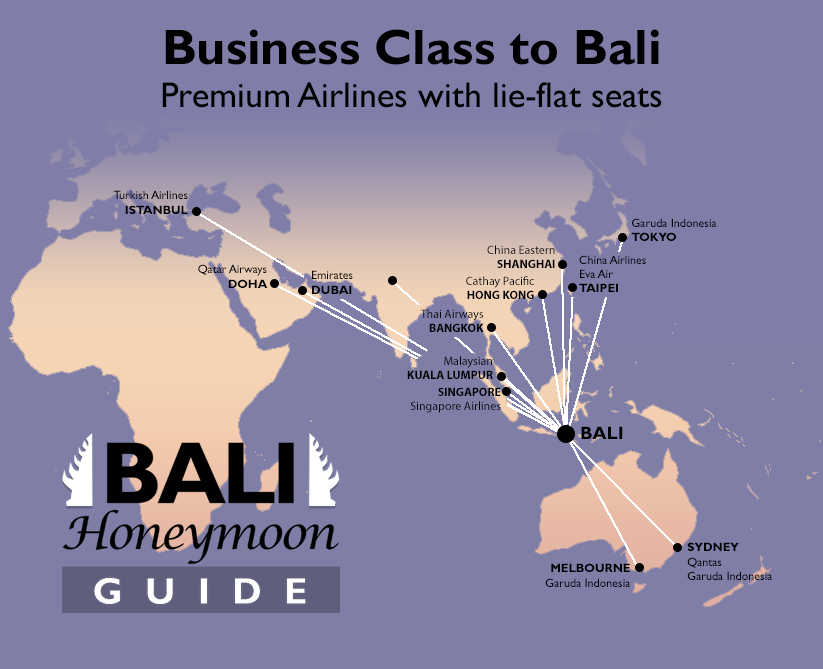 Map of Business Class flights to Bali.
In this article, we show you all your business class options to Bali. Not all airlines however make sense from all starting points, so we have organised all options by (the most common) departure regions. We do believe booking Business Class seats is worth it to make sure you get the most out of your Bali Honeymoon.
From Europe to Bali in Business Class
Not many European airlines fly to Bali, with the exception of KLM from Amsterdam (with a stopover in Singapore or Kuala Lumpur), and Turkish Airlines from Istanbul (direct). Turkish Airlines flies from a large number of cities in Europe and provides some of the highest service levels. KLM's business class is reasonably good (but not of the level of the middle-eastern carriers), and might be a good option if you are flying from the Netherlands, Scandinavia or the UK.
Other good options to consider are through some of the middle-eastern carriers, like Qatar Airways through Doha and Emirates with a connection in Dubai (Etihad does not fly to Bali). Both are excellent highly rated airlines, and Emirates has an unbeatable First Class cabin. When flying with one of the Middle Eastern Carriers from Europe, your connection will be roughly halfway your journey.
From some major European cities you could also opt for an asian carrier like Singapore Airlines, a great airline with a transfer at our favorite airport on the planet: Singapore Changi. Alternatives are Thai Airways via Bangkok or Cathay Pacific through Hong Kong.
In the past, connecting through Japan or South-Korea were good options from Europe. Unfortunately since the war in Ukraine these airlines don't overfly Russia anymore, making this a large detour.
From North-America to Bali in Business Class
There are no direct flights from North-America to Bali. Your options from the United States and Canada really depend on your location, West Coast over the Pacific and East Coast over the Atlantic. If you are not living on either of the coasts, we recommend comparing flight times from your departure airport before selecting an airline.
From the West Coast: flying over the Pacific Ocean is usually fastest, with a connection South-Korea (Korean Air), Taiwan (Air China or EVA Air), Hong Kong (Cathay Pacific) or Singapore Airlines. There are options through mainland China as well, but the business class offerings are not considered to be at the same level.
From the East Coast: often it is fastest to fly East, with a connection in Europe or the Middle East. Your options likely depend on the airlines flying from your home airport: Emirates is the most luxurious airline that flies to Bali with a layover in Dubai. Other good options in the Middle East include Turkish Airlines (via Istanbul) and Qatar Airways via Dubai. Singapore Airlines flies direct from New York JFK to Singapore, and from there you'll be in Bali in 3 hours.
From India to Bali in Business Class
From India, the best one-stop options go through Singapore with Singapore Airlines or Kuala Lumpur with Malaysia Airlines. From Delhi, a direct flight with lie-flat seating is offered by Vistara. Of these, Singapore Airlines flies to 8 cities in India and is our favorite: their service is excellent and Changi Airport in Singapore is probably the best transit airport on the planet. Malaysia Airlines flies from 9 cities in India.
Many cities in India are connected by Emirates and Qatar Airways which fly to Bali, but geographically that means backtracking east before flying onwards to South-East Asia, adding many unnecessary hours to your flight.
From Delhi: There is a direct flight with Vistara from Delhi to Denpasar Bali. It offers lie-flat seats in business class on their single-isle A321 planes. Your second-best option is Singapore Airlines with a layover in Singapore Changi, possibly the best transit airport in the world.
From Mumbai: Singapore Airlines is your best option. Two good alternative options are Malaysia Airlines and Thai Airways via Bangkok.
From East Asia to Bali in Business Class
Many airlines in East Asia offer Business Class seats to Bali, and it really depends where you are based. Check the list of airlines below:
From South Korea: The national airline Korean Air flies from Seoul direct to Bali, offering lie-flat seating on their Airbus A330 Aircraft. An alternative is Indonesia's national carrier Garuda, which flies between Seoul and Denpasar a few days of the week.
From Japan: The two national airlines of Japan unfortunately do not fly to Bali, so your only direct option is Indonesia's national airline Garuda, which flies from Tokyo Narita to Bali. If you don't mind transiting, Korean Air with a layover in Seoul can be a good option if you live elsewhere in Japan, as well as either of the Taiwanese carriers (EVA Air or China Airlines).
From China: China Eastern flies to Bali from Shanghai, China Southern from Guangzhou, Xiamen Air from Xiamen, and Cathay Pacific from Hong Kong. All of these offer connections from many cities in mainland China. Note that Xiamen Air and China Southern do not offer a full lie-flat seat in their airplanes.
From Australia to Bali in Business Class
Many airlines fly between Australia and Bali, but due to the short(er) distance not many decent business class offerings are available. The only two options are from Melbourne and Sydney:
From Sydney: Either fly Garuda Indonesia, or Qantas from Sydney to Denpasar. Both offer Business Class seats with an option to go fully flat.
From Melbourne: Garuda Indonesia is the only direct option from Melbourne. Alternatively you could connect in Sydney with Qantas.
There are no good Business Class offerings from Perth, however it is only a short flight to get to Bali!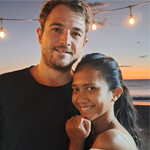 Written by Olivia & Dirk
Hi! We have put together this guide with a lot of care, based on our own experiences. As a couple, we have lived in Bali for the past 5 years, and we fell in love with the island. We have visited every corner of Bali, especially the romantic places ;-). While our articles do contain affiliate links, you can trust us to recommend only the experiences that we love.
Read more about us or let us help you organize your honeymoon for you!