7 Days in the remote North and Central Bali
The most popular regions of Bali, mostly in the south, can get very crowded. This itinerary heads north and goes off the beaten path, and is great for well traveled couples keen to explore undiscovered Bali. On this trip, you'll never lose sight of the sacred Mount Agung. Spend a couple of nights in the beautiful region of Sidemen, surrounded by rice fields and not far from Mount Agung. Continue your journey in the peaceful coastal town of Amed in North Bali.
Route Map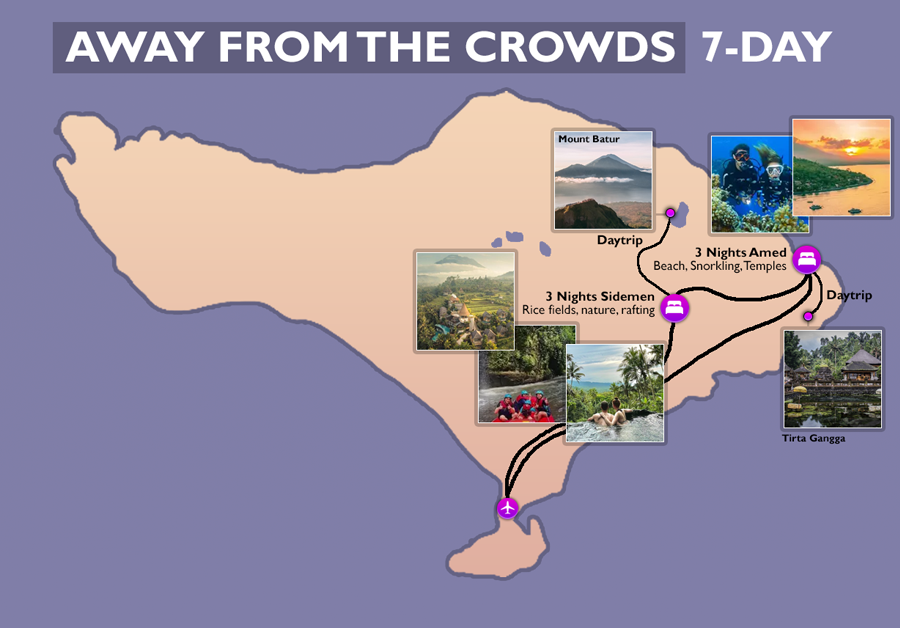 7-Day off the beaten path Bali Honeymoon Itinerary through Sidemen and Amed.
Day by Day
Day 1: Take a taxi from the airport to Sidemen (2 hours). Check in to the beautiful 5-star boutique Wapa Di Ume Sidemen.
Day 2: After a potentially long flight, you may want to take it easy. The Kapha Spa at Wapa Di Ume offers great massages and a bath overlooking the Balinese countryside. The resort has an infinity pool as well. A great spot to aclimatize, maybe even book their romantic private dining under the stars package?
Day 3: Explore Sidemen. Some suggestions: visit Gembleng waterfall or participate in a silver jewelry crafting activity to create a lasting memory of your honeymoon (see our Honeymoon in Sidemen article).
Day 4: Adventurous couples might be interested in giving the Telaga river rafting a try. You'll float past waterfalls and through jungle, a mesmerizing experience. You can do this in the morning before picking up your bags in your hotel and taking a taxi to your next destination: Amed. We suggest staying at the 4-star Santai Hotel.
Day 5: Explore the underwater world of the beautiful calm Java Sea by snorkeling or diving. For snorkeling, a great spot is from Warung Ombak, a basic beachfront café a short walk away from the Santai hotel. Enjoy a romantic sunset from the spectacular Blue Earth Village overlooking Jemeluk Bay.
Day 6: Time for some cultural exploration! Make a trip to the beautiful Tirta Gangga temple, one of the most beautiful Hindu temples on the island, and the Taman Ujun Water Palace. On the way you'll pass the scenic Berina rice terraces which are worth stopping.
Day 7: Time to head back to the airport. Notice that it is a 3-hour drive, so if your flight is early in the morning we would suggest you heading to South Bali already a night before.
Other hotels
While we believe the Santai and Wapa di Ume are great, there are other good options for couples. Check out the articles below for romantic hotels at any budget:
More Bali Itineraries
Based on our 5 years in Bali, we have crafted 8 Bali itineraries with care. Check the full list below or read more information on our Bali Honeymoon Itineraries.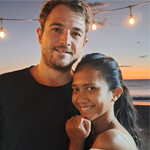 Written by Olivia & Dirk
Hi! We have put together this guide with a lot of care, based on our own experiences. As a couple, we have lived in Bali for the past 5 years, and we fell in love with the island. We have visited every corner of Bali, especially the romantic places ;-). While our articles do contain affiliate links, you can trust us to recommend only the experiences that we love.
Read more about us or let us help you organize your honeymoon for you!