The perfect itinerary for adventurous travelers on a budget
A Bali Honeymoon does not have to break the bank! This 14-day journey is great for couples that love travel and backpacking, and don't necessarily crave high-end resorts, but are looking for authentic experiences. While the expensive and crowded south of Bali is skipped, you'll visit 4 other amazing regions (some really off the beaten path) as well as the island of Nusa Penida, a short ferry ride away.
For some more suggestions, make sure to check out our guide on great affordable Bali hotels.
Route Map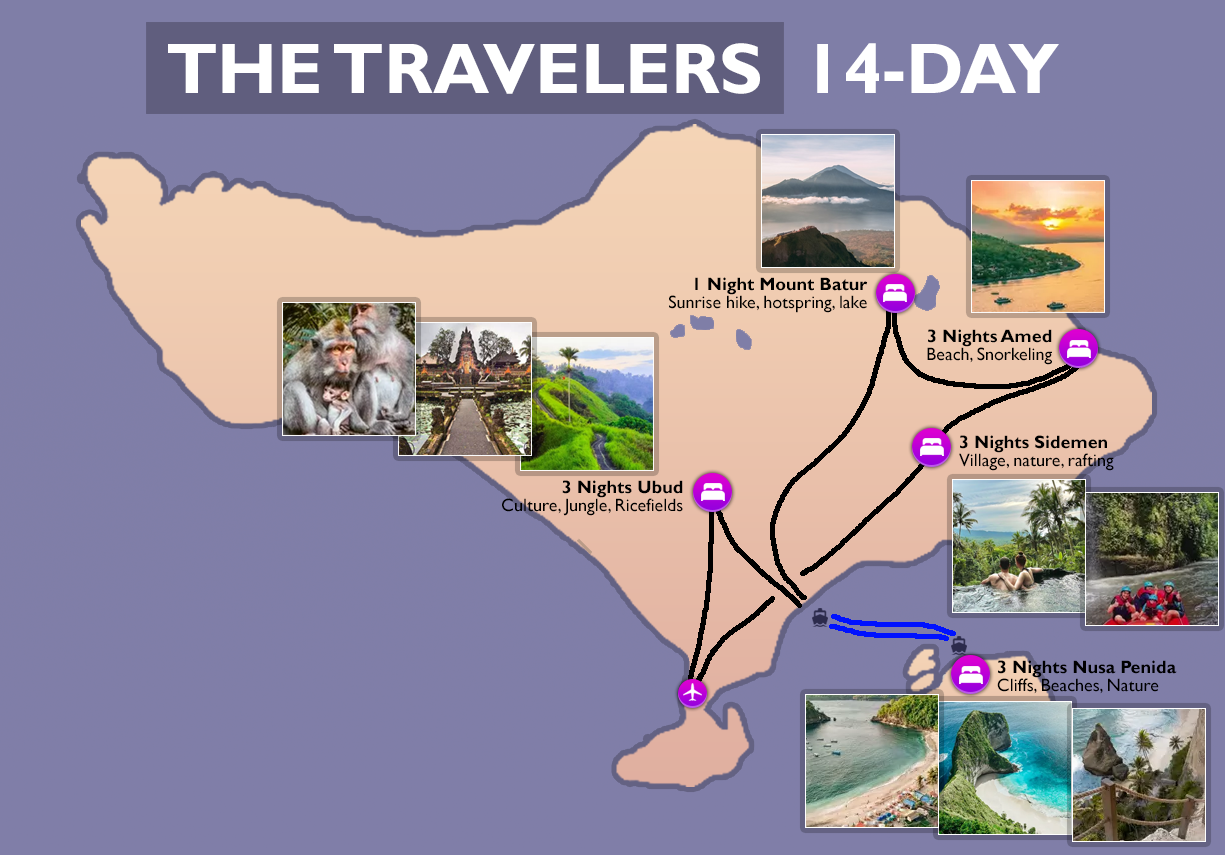 Go around Bali and Nusa Penida in 14 days.
Day by Day
Day 1: After a long flight, let's start our journey in Ubud, the famous jungle town in Central Bali. A highly rated affordable place to stay is the Alam Shanti, surrounded by nature but walking distance from town (through a scenic path around the Monkey Forest), so very convenient!
Day 2: Lots to explore in Ubud, but you may want to take it easy on your first day. Romantic tip: after walking the 30-minute Campuhan Ridge Walk, consider visiting the relaxing Tjampuhan Spa - super romantic to spend some time in this cave overlooking a jungle river, where you can enjoy sauna's, cold baths, hot baths and more. Entrance is less than 20$.
Day 3: Definitely check out the traditional Balinese Kecak Fire Dance in Ubud Palace. The Agung Rai Museum of Art is also a great spot for those interested in Balinese culture and art. For dining, we love the Indonesian "tapas-style" dishes at the very local Biah Biah restaurant.
Day 4: It is time to head to our next destination, the island of Nusa Penida. We need to get to Sanur harbour first, but likely your hotel can book a ferry ticket including hotel pick-up. In Nusa Penida, we suggest staying at the Mahaloka Valley as its highly rated and right next to the beautiful Crystal Bay beach (best sunsets!), but there are many affordable options available all over the island.
Day 5-6: Explore Nusa Penida. It is hard to get around without a driver, but some adventurous couples might consider renting a motorbike. Do note that roads around the island are in a bad condition, so we would not recommend that for unexperienced drivers. Highlights in Nusa Penida include Diamond Beach and Kelingking beach (don't just take a picture from the top, if you are in good condition definitely consider hiking down to the beach). We love local grilled fish at the authentic Warung Jungle.
Day 7: We're taking a ferry back to Bali. From Sanur harbour, we suggest heading all the way up to the Kintamani region, to Mount Batur (2 hours - note you can book a driver in advance). Mount Batur is a dormant volcano with scenic views over Bali - especially during sunrise. We are only staying here a single night, there are many affordable homestays in the area. We would suggest heading to bed early…
Day 8: …your alarm will sound around 4AM to climb Mount Batur. While that sounds super early, we did this twice because its such an amazing experience. You'll go up in the dark, with a guide that provides you with a flashlight. On top, you'll be served a simple Indonesian breakfast while enjoying the sun rising over Bali, with Lake Batur, Mount Agung and Lombok Island in the distance. After walking back down and checking out from your room, we highly recommend rewarding yourselves with a visit to one of the hotsprings bordering Lake Batur before heading onwards to the peaceful beach town of Amed (we suggest staying at the beautiful beachfront Santai Hotel).
Day 9-10: Amed is great for snorkeling. Borrow some goggles from your hotel. We love the simple beachfront Warung Ombak, which has a few beach beds and serves Indonesian food as well as refreshing drinks. Right in front there's a lot to explore underwater. Those couples that are into diving, check out our Amed Honeymoon Guide for some good suggestions. You'll experience the best sunsets at Jemeluk Bay: either from the more high end Blue Earth Village, or the simple Joli Café, a wooden shed that serves delicious cocktails. At night, Amed has only one place to be: the Sama Sama reggea bar is where the whole village heads at night, locals included.
Day 11: Time to head to our last destination: the off-the-beaten-path destination of Sidemen. The Darmado Eco Resort is located on the bank of a beautiful jungle river and offers a natural pool. The Darmada is more friendly priced than some of the new 5-star hotels that recently were developed in Sidemen, and is very embedded in the local village.
Day 12-13: Lot's of things to do in Sidemen! Check out our Sidemen Honeymoon article for ideas, but definitely don't miss the Gembleng Waterfall. A bunch of traditional crafts are still performed in the village, that is locally known for its silver crafts. For a last adventure, consider rafting on the Tegala Waja river. For a nice dinner before heading back home, check out the Asri Dining at the Samanvaya resort (you can eat here without staying).
Day 14: The sad day has come that this adventure has come to an end. But you can be sure you got the most out of your honeymoon with this unforgettable adventurous itinerary! Note that Sidemen is roughly 3 hours from the airport, so make sure to leave the hotel in time for your flight (and if your flight is early, better head south the night before already).
Other hotels
While we believe the hotels above are all great, but there are many good options to choose from. Maybe you want to opt for something a bit more luxurious for a few nights… Check out the articles below for more ideas:
More Bali Itineraries
Based on our 5 years in Bali, we have crafted 8 Bali itineraries with care. Check the full list below or read more information on our Bali Honeymoon Itineraries.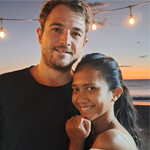 Written by Olivia & Dirk
Hi! We have put together this guide with a lot of care, based on our own experiences. As a couple, we have lived in Bali for the past 5 years, and we fell in love with the island. We have visited every corner of Bali, especially the romantic places ;-). While our articles do contain affiliate links, you can trust us to recommend only the experiences that we love.
Read more about us or let us help you organize your honeymoon for you!