Why Honeymoon in Sidemen?
Sidemen is a traditional Balinese village hidden between the rice fields at the foot of the spectacular Agung volcano in East Bali. Sidemen is off the beaten path, not many tourists visit this place, and that is part of its charm. People claim it compares to how Ubud was 25 years ago before mass tourism arrived. While we haven't been in Bali long enough to confirm that claim, we do love visiting Sidemen!
Undiscovered Bali!
Sidemen is Bali in its purest form. Rice terraces, waterfalls, a wild river (great for rafting!), and an authentic local village where local crafts are performed. We believe it is great for a honeymoon as you can completely wind down, relax and join your time together here. Best of all, you won't have to compromise on comfort: the spectacular luxury Wapa Di Ume Resort allows you to enjoy Sidemen in style! We share some more suggestions for honeymoon hotels in Sidemen below.
Silver Jewelry Making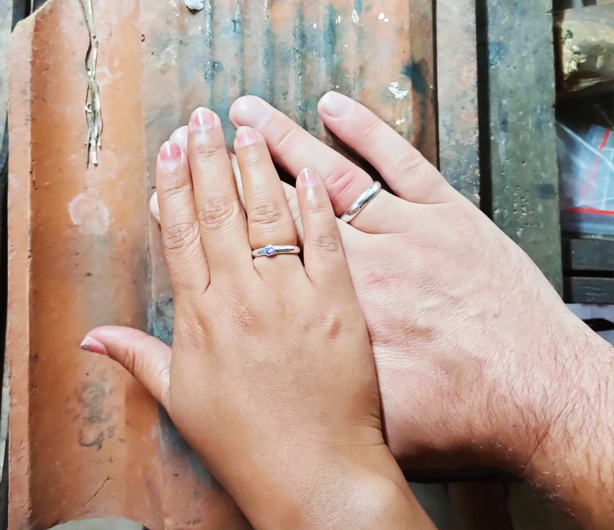 We made our wedding rings at Agung Silver in Sidemen. A great romantic honeymoon suggestion: Sidemen is known for its silver crafting. There's a traditional silversmith in Sidemen who invites couples to make their own silver rings or custom jewelry together. This is where we made our wedding rings! At Agung Silver, you can try your best at this craft - it takes around 2 hours and is great fun. Lately this place got featured on social media by some well known influencers, so make sure to book in advance (Instagram).
Honeymoon Hotels in Sidemen
Wondering where to stay during your Sidemen honeymoon? While Sidemen is off the beaten path and doesn't offer the wide range of luxury accomodation you might find in Seminyak or Uluwatu, there's some great honeymoon-worthy hotels in Sidemen now.
Honeymoon Activities in Sidemen
Sidemen is a great place to relax and enjoy the nature together. The amount of activities offered might seem smaller as what you would find in tourist hotspots like Ubud, but there's a few things we love to do when visiting Sidemen, especially as a couple!
Romantic Dining in Sidemen
Luxury dining options in Sidemen are limited. Your best options are the two luxury hotels in the area, with the restaurant in the Samanvaya hotel being our favorite. Some more casual dining options can be found in Sidemen too, as well as simple family-run Balinese restaurants offering authentic Balinese food. Here are our favorites!
How to get to Sidemen
Sidemen is a 2 hour drive away from Denpasar Bali Airport and most tourist destinations in South Bali (Canggu, Seminyak or Uluwatu). It's a little closer from Ubud, taking around 1 hour by car if there's no traffic.
Sidemen is a great midway point to stay a day or two on your way to Amed on the northeast shore of Bali. However don't use it as a midway point on your way to Lovina - while Sidemen may appear roughly halfway on a map, it actually takes 3 hours from Sidemen to get to Lovina through the mountains - just as long as it would take from South Bali.
Frequently asked questions
Where is Sidemen in Bali?
Sidemen is located in East-Central Bali. It is a small village surrounded by mountains, rice fields and forest, roughly 2 hours drive from Bali Airport.
How to get around in Sidemen?
Sidemen is a relatively small town. You can easily get around by walking. However, it is advisable to get a hotel towards the center of the town. To explore the surrounding nature, you would either need to find a (taxi) driver or rent a scooter if you feel comfortable driving one!
How far is Sidemen from Bali Airport
As Sidemen is located in East Bali, it takes around 2 hours to get there from the airport. This is part of Sidemen's charm - its not overrun by tourists (yet)!
Is Sidemen a good honeymoon destination?
Yes, we love it as this is where you can explore the real traditional Bali without the mass tourism, with some luxury hotel options to enjoy it all in style.
How long should we stay in Sidemen?
We believe two nights is a good amount of time to spend in Sidemen, unless you plan to do a lot of activities (rafting, exploring waterfalls) or want to take it slow - then 3 nights would be perfect!
What activities can we do in Sidemen?
Sidemen is surrounded by beautiful nature. You can find rivers suitable for rafting, waterfalls, mountains for hiking and more!
Next Destinations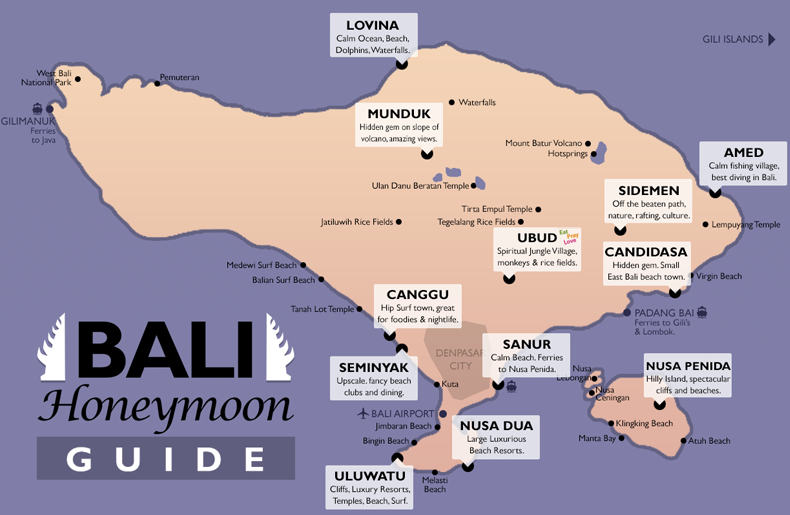 Bali Regions Map. Do you want to continue your exploration of East/North Bali? The most logical next destination after Sidemen is the beautiful coastal town of Amed. Just like Sidemen the amount of tourism is quite limited here, and you could learn to dive together! If you feel like heading to an area with a bit more buzz next, consider the jungle town of Ubud or the luxury beach town Seminyak.
For an experience similar to Sidemen (nature, off the beaten path), we would suggest the Munduk region - stay on the slope of a volcanic crater with spectacular views overlooking the ocean. For more travel ideas we wrote an article on Bali Honeymoon Itineraries.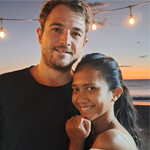 Written by Olivia & Dirk
Hi! We have put together this guide with a lot of care, based on our own experiences. As a couple, we have lived in Bali for the past 5 years, and we fell in love with the island. We have visited every corner of Bali, especially the romantic places ;-). While our articles do contain affiliate links, you can trust us to recommend only the experiences that we love.
Read more about us or let us help you organize your honeymoon for you!