Day Trips: a convenient way to see Bali!
Bali is a large island. Depending on where you stay, you can find beaches, cliffs, rice fields, volcanoes, temples, lakes, hot springs or waterfalls in your proximity. The many options can be overwhelming. By booking guided tours in Bali, you will be able to see different regions across the island without switching accommodation all the time.
Starting point: your hotel!
Most tourists stay in the South of Bali, relatively close to the airport. The Bali tours below can pick you up in your hotel in Canggu, Seminyak, Nusa Dua or Ubud and drop you back home at the end of the day. Some of the options listed below can start from Uluwatu as well, but Uluwatu is further south, resulting in a longer drive to most nature sights in North and Central Bali.
Private Tour or Group Tour: We've listed both group tours and private day trips below. On your honeymoon, you might prefer a private experience with your partner. However sometimes it might as well be fun to meet other travels. Group tours are more economical, as you share your guide and ride with fellow travelers. Private tours can often be customized a little bit if you ask nicely, allowing you to have a personalized experience.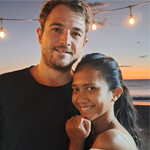 Written by Olivia & Dirk
Hi! We have put together this guide with a lot of care, based on our own experiences. As a couple, we have lived in Bali for the past 5 years, and we fell in love with the island. We have visited every corner of Bali, especially the romantic places ;-). While our articles do contain affiliate links, you can trust us to recommend only the experiences that we love.
Read more about us or let us help you organize your honeymoon for you!