The best of Bali in 10 days: beaches, jungle, mountains and culture
See the best of Bali in 10 days. Start at the cliffs and beaches on Bali's most southern point: Uluwatu. Explore the lakes, waterfalls, temples and highlands of Munduk in the north. Visit the cultural heart of Bali: the town of Ubud, surrounded by rice fields and jungle. For couples who like a challenge: consider taking a sunrise day trip to hike up Mount Batur from Ubud, and see the beautiful island of Bali from above before your return back home.
We believe this itinerary is set at a reasonable pace and can be done in 10 days, but it might feel too fast for some couples. Feel free to add a few days to this itinerary if you'd like to take things a little slower on your honeymoon.
Route Map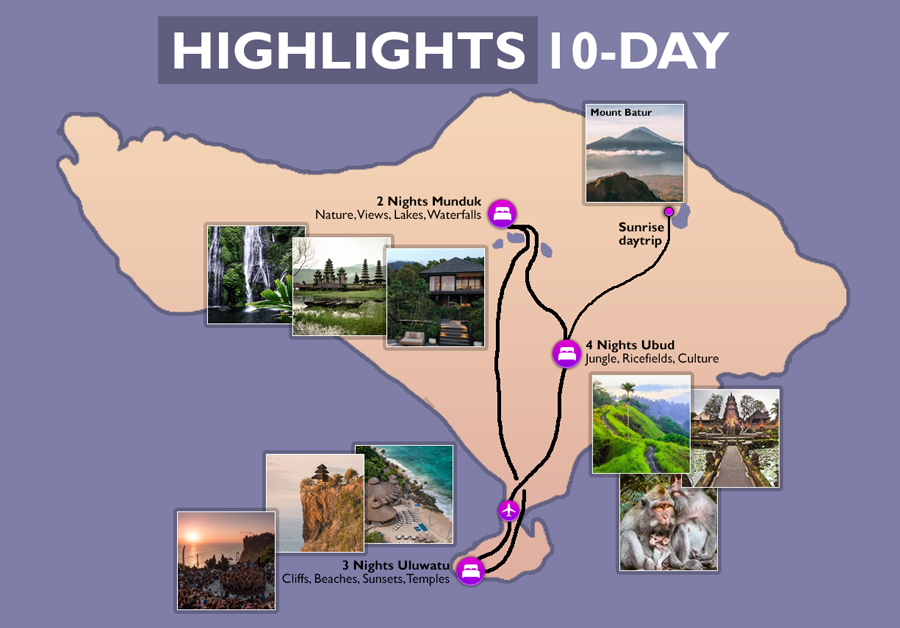 10-Day Honeymoon Itinerary to Ubud, Munduk and Uluwatu.
Day by Day
Day 1: Head from the airport to your hotel. We like The 5-star Ayana Resort as a first stop in Bali, as it is conveniently located between the airport and Uluwatu (20 min taxi from the airport). In addition, The Ayana offers spectacular sunsets and a famous bar positioned on a rock in the ocean: the Rock Bar.
Day 2: As you're probably still getting adjusted to the timezone and tropical climate, it is fair to take it slow the first day. Enjoy the hotel and beach, celebrate arriving at your honeymoon destination together, and maybe enjoy a sunset drink at the Rock Bar.
Day 3: Visit Uluwatu, roughly a 20-minute drive from your hotel. Our favorites: visit Uluwatu Temple for sunset (experience the traditional Kecak Fire Dance performance) and explore Uluwatu Cave and the Single Fin nightclub on top of the cliff. For more ideas, including for dinner, check our Uluwatu Honeymoon Guide!
Day 4: Quite a long drive ahead to the peaceful and luxury Munduk Cabins, a boutique resort with only a handful cabins overlooking the jungle and Java Sea. It takes roughly 3 hours to get to the mountainous region of Munduk, but this is really worth it. Any hotel can arrange a taxi, but you can probably ask a taxi on the streets a day before, and they'll likely offer a better price. A great stop on the way is the popular Ulan Danu temple on Lake Beratan, ask your driver to make a 1-hour stop (that should be enough there).
Day 5: Explore Munduk, a region famous for its crater lakes, lush hills and beautiful waterfalls. We love the pretty Banyumala waterfalls. Not many tourists are aware of the peaceful Tamblingan Lake, which also has a temple. Locals might offer to take you on a canoe ride for a small fee. For dinner, we suggest the Ulekan restaurant at Munduk Cabins. After dinner, don't miss out on the bonfire!
Day 6: Today we're heading to Ubud - but before going south again, it is worth considering to go early morning Dolphin Watching in the Java Sea near Lovina. This will require a very early departure from your hotel. After swimming with dolphins, its time for Ubud! From either Munduk or Lovina it takes around 2 hours to get to Ubud. The 5-star highly rated Kayon Resort is spectacular, situated right next to a waterfall and jungle river.
Day 7: You have been traveling a lot, maybe take it slow for a day. The Kayon resort has a lot to offer, including pools, a waterfall and the Serayu Spa. Consider booking their romantic private dining experience in advance.
Day 8: The Kayon Resort has a free shuttle to the town of Ubud, the cultural heart of Bali. Explore the Monkey Forest (watch your stuff!), Ubud Palace and the Tjampuhan Ridge Walk. Consider venturing out to the Tegallalang Rice Fields north of Ubud, but note that these can get very crowded by tourists. For dinner, Ubud has some excellent fine dining options, check out our Honeymoon in Ubud article for some good suggestions.
Day 9: You've seen Bali all the way from the South to the North, but always from the ground. If you and your partner are up for an adventure, lets check out this paradise island from above. You'll be picked up from your hotel EARLY (probably before 4AM), which sounds horrible but honestly this is one of our favorite things to experience in Bali. The Mount Batur sunrise trek is a roughly 1.5 hour walk up the Batur volcano in the dark, but you'll be supplied with flashlights and taken along with a guide. From above you'll experience the most epic views, with the sun rising over Bali, with Mount Agung and Lombok island in the distance. TIP: Refresh at one of the hotsprings next to Lake Batur after your hike before returning back to your hotel in Ubud.
Day 10: Unfortunately, it is time to head back to the airport. This takes roughly 1.5 hours from Ubud by taxi.
Other hotels
While we believe the hotels above are great, there are many good options to choose from, especially in Ubud and Uluwatu. Check out the articles below for romantic hotels at any budget:
More Bali Itineraries
Based on our 5 years in Bali, we have crafted 8 Bali itineraries with care. Check the full list below or read more information on our Bali Honeymoon Itineraries.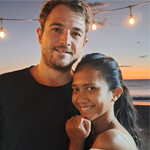 Written by Olivia & Dirk
Hi! We have put together this guide with a lot of care, based on our own experiences. As a couple, we have lived in Bali for the past 5 years, and we fell in love with the island. We have visited every corner of Bali, especially the romantic places ;-). While our articles do contain affiliate links, you can trust us to recommend only the experiences that we love.
Read more about us or let us help you organize your honeymoon for you!