7 Days from Nusa Dua: with day trips to Uluwatu and Ubud
Staying in a single place would not be our first choice, but it definitely is the most convenient Bali Honeymoon option! No need to pack, unpack and haul your bags from hotel to hotel. You could stay in a central location in the south (we recommend Seminyak, Canggu or Nusa Dua for this). From here, you can do fantastic Bali Day Trips (either as private or group tours) to Ubud, Uluwatu, explore the waterfalls of north Bali or climb the Batur Volcano. But at the end of the day, you will always be returned to the convenience of your hotel.
Hiring a private car with driver for an entire day is surprisingly affordable, making day trips instead of moving from hotel to hotel a serious option. Expect to pay around 50 USD for a taxi for an entire day.
Below is a good example of such single-base itinerary, with a stay in Nusa Dua.
Route Map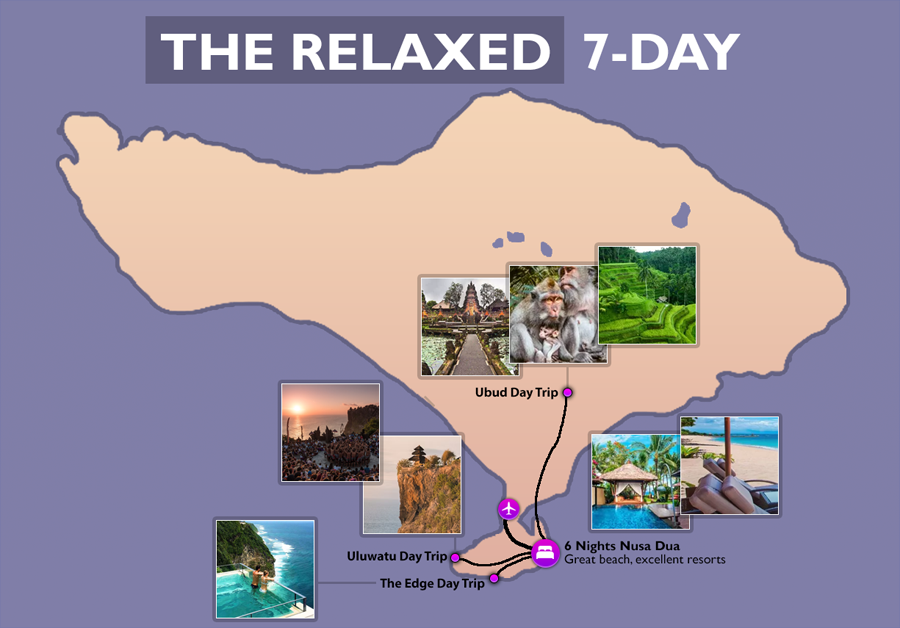 Conveniently stay in one place, but still see a lot of Bali.
Day by Day
Day 1: Taxi from Airport to Nusa Dua (20 mins), check in to the St. Regis Bali, which is the best hotel in the area (5 stars, extremely good reviews and beachfront). For a luxury honeymoon, consider their private pool suites!
Day 2: Recover from your flight in the hotel or on the beach. Enjoy a great dinner at the hotel's Kayuputi restaurant overlooking the ocean.
Day 3: Afternoon trip to the cliffs of Uluwatu. Enjoy the spectacular sunset at Uluwatu Temple while witnessing a traditional Balinese kecak fire dance performance and celebrate your honeymoon afterwards with a cocktail at the Single Fin club overlooking the Indian Ocean.
Day 4: Day Trip to visit the highlights of Ubud. Visit the Tegallalang Rice Terraces, Monkey Forest and Campuhan Ridge Walk. Tip: Enjoy sunset and dinner at the Sayan House overlooking the jungle before returning to Nusa Dua.
Day 5: Visit the spectacular one-eighty infinity pool at The Edge Dayclub Bali. Enjoy a fine dining in an actual cave nextdoor ("The Cave") afterwards. Book both in advance.
Day 6: Relaxing day at the St. Regis before your flight back home, or check our Nusa Dua Honeymoon Guide for more activity and dining ideas!
Day 7: Taxi back from Nusa Dua to the Airport.
Other hotels
While we believe the St. Regis is a great option, there are other good hotels in the Nusa Dua area for couples too, some of which are more affordable than the high-end St. Regis.
More Bali Itineraries
Based on our 5 years in Bali, we have crafted 8 Bali itineraries with care. Check the full list below or read more information on our Bali Honeymoon Itineraries.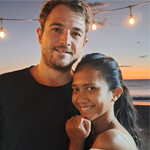 Written by Olivia & Dirk
Hi! We have put together this guide with a lot of care, based on our own experiences. As a couple, we have lived in Bali for the past 5 years, and we fell in love with the island. We have visited every corner of Bali, especially the romantic places ;-). While our articles do contain affiliate links, you can trust us to recommend only the experiences that we love.
Read more about us or let us help you organize your honeymoon for you!