7 Days in trendy Uluwatu & Canggu with a daytrip to Ubud
For lovers of beach, party, surf and good vibes. Start your honeymoon at the beautiful cliffs of Bali near the surf town of Uluwatu (where you can enjoy the best sunsets). Finish in "happening" Canggu, the home of influencers, foodies, surfers and Digital Nomads. This is where you find Bali's best nightlife and boutique stores.
On this itinerary, you won't miss out on the beautiful jungle and rice fields of Central Bali. We suggest adding a day trip from Canggu to the region of Ubud. You'll be able to visit a lot of highlights in a single day, including the famous Tegallalang Rice Terraces and the Sacret Ubud Monkey Forest.
Route Map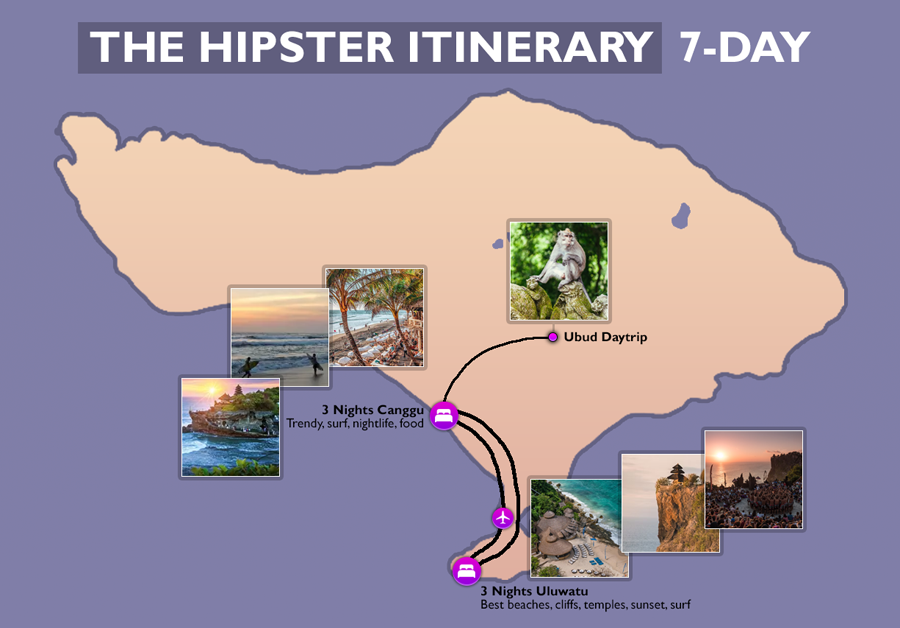 7-Day Honeymoon Itinerary to Uluwatu and Canggu.
Day by Day
Day 1: Head straight to Uluwatu from the airport (this takes only 30 minutes). We believe the best place to stay for honeymooners is the 5-star Ungasan Clifftop Resort.
Day 2: Recover from your flight at Bali's most pretty beach, right down from your hotel. We love this spot. The ocean here is clear blue, the surrounding hills lush green. Note during high tide the hotel beach is quite small, best to visit during low tide. In the afternoon, make a visit to The Istana Spa, a sauna complex overlooking the Indian ocean. Best to book a slot that aligns with sunset (around 6PM). Check our Honeymoon in Uluwatu guide for dinner suggestions. The place to be for drinks at night is Single Finn, a club situated right above Uluwatu Cave (also great sunsets there).
Day 3: Explore Uluwatu. Must see is the cliffside Uluwatu Temple (inhabited by a colony of monkeys), where you can also visit a traditional Balinese Kecak Fire Dance show during sunset (recommended!). The best dining experience can be found at The Cave, which offers a fine dining tasting menu in an actual cave. Between courses, a light and music show will make this experience unforgettable. We've been here and loved it (obviously book in advance).
Day 4: Check out from your hotel and head to Canggu (roughly 1.5 hours depending on traffic). We believe Hotel Tugu is the best honeymoon option at the best location possible in Canggu, they have beautiful rooms with a romantic bathtub (some even have a private pool!) and the whole place is beautifully designed. Spend your afternoon relaxing in one of the beach clubs. We love The Lawn, which actually turns into a party place at night and is a 2 minute walk from Hotel Tugu. Alternatively, for sunset and dinner, head to the La Brisa beachclub, a bamboo place between large palm trees right on the beach (book in advance!).
Day 5: Try a surf lesson together on the famous Batu Bolong beach! A fun afternoon trip might be to head to the Tanah Lot temple on a rock in the ocean for sunset. For dinner, we love the beachfront JI Restaurant. It is part of the Tugu hotel, but non-guests are welcome too, and they serve excellent sushi overlooking the ocean. If you prefer Italian, a very trendy spot right in the center of Canggu is La Baracca (try their Burrata!).
Day 6: You can visit the jungle town of Ubud in a day! Book a private Ubud Day Trip in advance. This tour operator is rated 4.9 out of 5 with 1100+ reviews. You will visit a waterfall, a traditional Balinese village where ancient crafts are still performed, the Sacret Ubud Monkey Forest, the Tegallalang Rice Terraces and Ubud Palace with a private driver. At the end, the driver will drop you back at your Canggu hotel. For more ideas check our article on Bali Day Trips.
Day 7: If you have some time before your flight: The most instagrammable spot for brunch in Canggu has to be Crate Cafe. This is where the trendy Canggu crowd goes, expect some queueing. When heading to the airport: this drive will usually take roughly 1 hour, but Canggu traffic is notorious so better head there a bit early.
Other hotels
While we believe Hotel Tugu and The Ungasan are great, there are other good options for couples. Check out the articles below for romantic hotels at any budget:
More Bali Itineraries
Based on our 5 years in Bali, we have crafted 8 Bali itineraries with care. Check the full list below or read more information on our Bali Honeymoon Itineraries.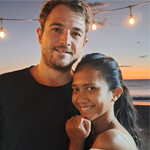 Written by Olivia & Dirk
Hi! We have put together this guide with a lot of care, based on our own experiences. As a couple, we have lived in Bali for the past 5 years, and we fell in love with the island. We have visited every corner of Bali, especially the romantic places ;-). While our articles do contain affiliate links, you can trust us to recommend only the experiences that we love.
Read more about us or let us help you organize your honeymoon for you!