Bali Sunsets are special!
Enjoying a sun setting over the ocean together is a beautiful experience. Sure, it is a natural phenomenon that happens every day, but believe us: in Bali sunsets are very special. We've lived in Bali for 5 years, and in this article we are sharing our favorites!
Sunset views in Bali are especially romantic, inspiring, and too precious to not share on social media. After a day full of activities, rewind and enjoy a simple sunset on the beach, a cliff or mountain. The skies in Bali are nothing like many of us are used to at home. Spectacular clouds and colours that turn red around sunset time. The contrast between the calm beach and wild Indian Ocean turning yellow makes for a beautiful sight.
There are many great sunset spots in Bali that you may want to visit. But Bali is a large island with many different regions. Where to go? We've collected a list of unique destinations that offer stunning sunset views in Bali. They are definitely worth checking off your list!
Sunset times in Bali
In Bali, the sun sets early. Bali is located close to the equator, meaning there are very little seasonal differences. In general, expect the sun to set in Bali between 6PM and 7PM local time, depending on the month. See the overview below for more precise times: but don't forgot, the most spectacular part of the sunset is the golden hour before sunset, when the sky turns into spectacular colors. It is claimed that this hour is the best time for photography too.
| Month | Sunset Time in Bali |
| --- | --- |
| January | 18:41 (6:41PM) |
| February | 18:40 (6:40PM) |
| March | 18:25 (6:25PM) |
| April | 18:11 (6:11PM) |
| May | 18:07 (6:07PM) |
| June | 18:07 (6:07PM) |
| July | 18:13 (6:13PM) |
| August | 18:18 (6:18PM) |
| September | 18:15 (6:15PM) |
| October | 18:14 (6:14PM) |
| November | 18:15 (6:15PM) |
| December | 18:26 (6:26PM) |
Our Favorite Sunset Destinations in Bali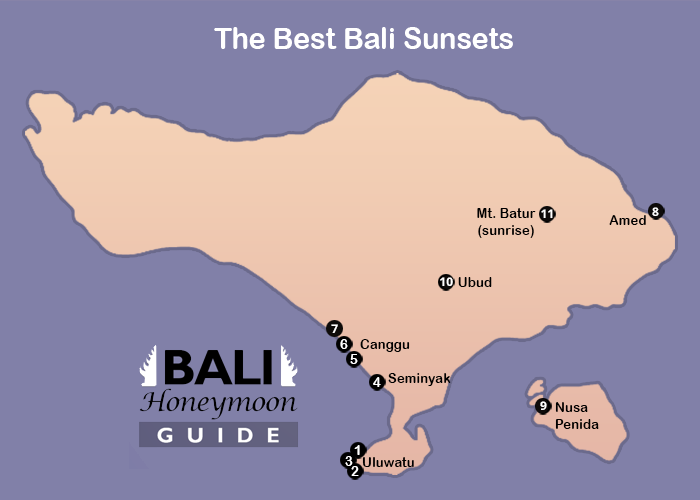 Bali's 10 best Sunset Destinations. We have compiled a list of our 10 favorite Bali Sunset locations. Actually, we are listing 9 amazing sunsets and 1 suggestion for a spectacular mountain-top sunrise on Mount Batur. The best sunset locations are facing the ocean in the western direction and are located around the south-west of the island. The main regions where you find the best sunsets are Uluwatu, Seminyak and Canggu. But we have a great suggestion for sunset in the jungle town of ubud and calm dive town Amed as well.
1. Uluwatu Cave and Single Fin Bali
Let's start with one of the best places to watch the sunset: Uluwatu Cave. this world-famous destination is perfect for surfing. Surfers will feel right at home at this world-famous surfing destination with the most famous wave of Indonesia. After a day of paddling and catching waves, what's better than watching the sunset from the cliffs or a cave?
You have two options here: watching the sunset while sipping a cocktail in the Single Finn bar, or (during low tide) from the cave below. Single Finn is located in Pantai Suluban, on the edge of a cliff overlooking the Indian Ocean. There are stairs down the cliff that take you to a beautiful cave with a beach that is accessible if the tide is low.
Single Finn is a popular spot, arrive early for seats overlooking the ocean. As a bonus, you can watch professional surfers catch some of the best breaks in the world. The bar offers great food and cocktails and turns into a party place with music on Wednesdays and Sundays.
Uluwatu is located on the south tip of Bali, on the peninsula south of the airport known for its spectacular cliffs. Read our Uluwatu Honeymoon Guide for more suggestions around Uluwatu.
2. Uluwatu Temple and Kecak Fire Dance
Just a little south of Uluwatu Cave, you find Uluwatu Temple. This is where the Balinese have built a spectacular temple on the highest point of a cliff overlooking the Indian Ocean. It is a holy place for the Balinese but visitors are welcome too. You will need to pay a small entrance fee to access the park and temple. Watch out for the monkeys around the temple, they are cute little thiefs that are after your loose items!
Next to the temple, a traditional Kecak Fire Dance is performed every day during sunset. You will need to buy tickets in advance as they sell out fast. During a 45-minute performance, perfectly timed to align with the sunset, the stories of the Balinese gods will be introduced to you in a very entertaining show. The tribune is in a half-circle facing the Indian Ocean, allowing you to take in the sunset while watching the locals act out a scene from the Ramayana legend with a mesmerizing trance chant!
3. The Istana Spa, Uluwatu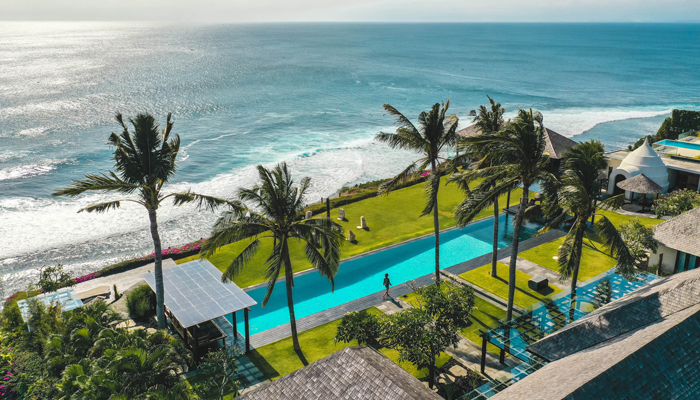 Amazing wellness destination on the cliffs in Uluwatu.
Our third and final suggestion in Uluwatu. This guide highlights so many sunset spots in Uluwatu as its spectacular cliffs are just perfectly positioned towards the West.
The Istana Spa is the perfect romantic destination to really wind down. Located on the edge of a cliff, it is offering excellent views over the Uluwatu landscape and ocean. Besides, The Istana offers a massive pool, and multiple wellness facilities: hot tubs, a sauna, a steam room, and an ice-cold bath to cool down.
Make sure to book your spot in advance, and to pick a time that overlaps with sunset for the best experience. After sunset, a campfire is often lit. A visit to The Istana Spa is one of our top recommendations for honeymooners or other couples in Bali.
4. La Plancha, Seminyak
Seminyak is an ultimate honeymoon destination, perfect for days lazing by the pool in your accommodations, luxury dining and beach clubs, and nights out at Bali's most trendy bars. Out of the many options in Seminyak, we recommend you to spend your sunset at La Plancha Seminyak with alfresco cocktails while enjoying the live music.
This place is not as fancy as some of the other beach clubs around Seminyak. But drinks are very affordable and we believe it has the best vibes in the area! A Spanish beach bar filled with cozy colorful beanbags and traditional Balinese umbrellas on the beach, it's easy to see why La Plancha attracts sunset lovers. plus With a popular menu of tapas, salads, and seafood in addition to a variety of good cocktails.
La Plancha is a breathtakingly beautiful destination that allows honeymooners to watch the sun light up the sky in brilliant hues of pink, orange, and purple.
5. Echo Beach, Canggu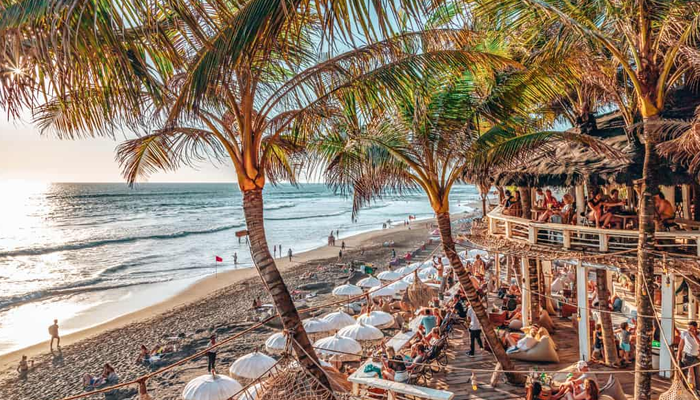 La Brisa on Echo Beach is our favorite beach club in Canggu.
Echo Beach is one of the beaches that is popular for sunset in the Canggu area of Bali. A hot favorite amongst the expatriates and tourists, this beach is a great social hangout and a good choice for sunset in Canggu.
You can keep it simple here, enjoying a simple coconut on some bean bags provided by a local vendor. But there are nice beach clubs too. Our favorite is La Brisa, a bamboo beachfront restaurant with a pool situated within the shade of waving palm trees.
Besides a breathtaking sunset from the beach, you can also watch surfers catch breaks here. All in all a very entertaining spot to enjoy sunset!
6. Pererenan Beach, Canggu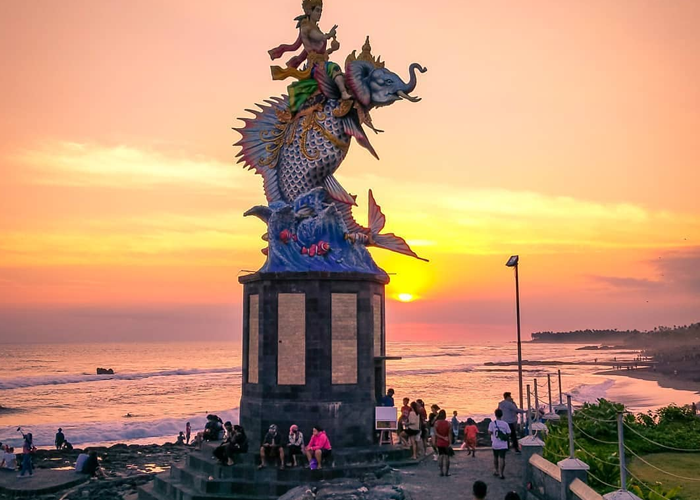 Sunset in Pererenan overlooking the Gajah Mina Statue.
Slow down and allow nature to do its magic. Beaches are hands down some of the best places to watch the sunset as it disappears into the sealine. Pererenan, close to Canggu, is no exception.
In Pererenan, you get the most local sunset experience. Many Balinese head here to relax after a day of working. You won't find fancy beach clubs here. Rather, simple food stalls sell delicious affordable street food. Enjoy some Sate Ayam (chicken skewers with peanut sauce) for less than a dollar, accompanied by a fresh local coconut. You can relax and enjoy the feel of a calm beach under the orange sky, while sitting on the rocks or sand.
7. Jemeluk Bay, Amed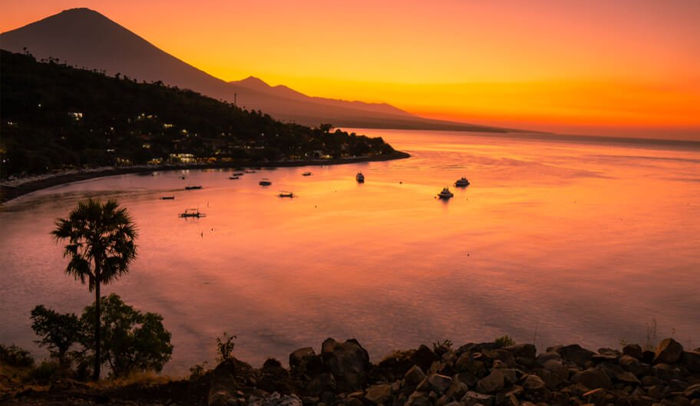 Jemeluk Bay in Amed overlooking Mount Agung.
No trip to Bali is complete without a visit to Amed on the north-eastern tip of Bali. This calm dive and fishing village is at the end of a long beautiful road along the coast and through mountains and rice terraces. Though the 3-hour drive from south Bali might scare some people, the views waiting for you are so worth it. The good thing about this long drive: not many tourists visit all the way up there, which helped Amed retain a unique authentic vibe.
How beautiful are the sunsets in Amed? The saturated golden, red, and orange colors of the sunset in Amed, while overlooking bays and the Agung Volcano, are a wonderful
One of our favorite spots in Amed is on the hill near Jemeluk Bay, located only a few minutes away from Abyss Dive Center. Jemeluk bay is one of the most popular dive sites in Amed, not just for sunset: you can swim, snorkel, dive or just relax on the beach.
Two hangout spots on the hill near Jemeluk bay are great for watching the sun sink behind Mount Agung: The simple Joli Cafe (great affordable cocktails!) or more upscale (but still Amed-style, nothing extravagant) Blue Earth Village restaurant.
8. Crystal Bay, Nusa Penida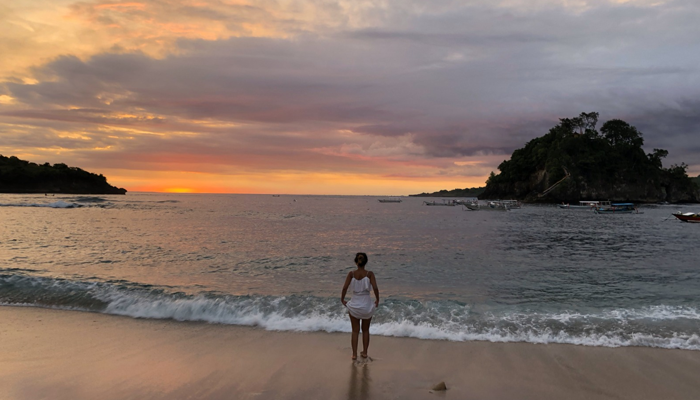 Crystal Bay on Nusa Penida island, 1 hour by ferry from Bali.
This spot is on Nusa Penida Island, off the east coast of Bali. Many honeymooners and couples visit this place for its famous beaches and landscapes. You can reach Nusa Penida by fast ferry from Sanur harbour in Denpasar.
Crystal Bay is located on the West side of Nusa Penida island and is a great spot for sunset. Cristal bay overlooks a crystal-clear blue ocean and features long sandy beaches. The green surrounding, and the tropical climate, make it a perfect romantic spot to enjoy a spectacular sunset.
9. The Sayan House, Ubud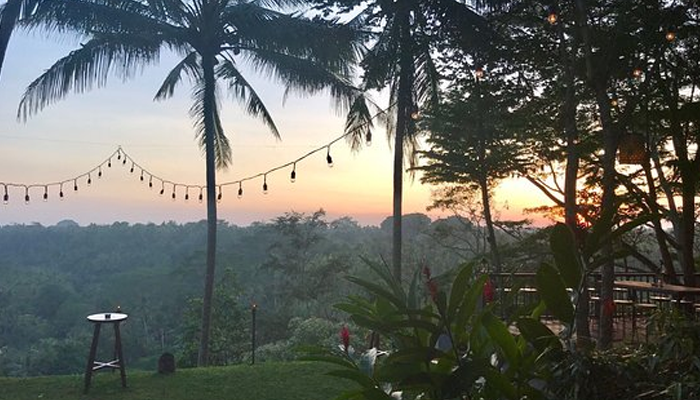 No ocean, but Ubud has beautiful sunsets too!
Our only recommendation that does not overlook the ocean! Have you been in Ubud for some time and do you miss the South Bali Sunsets? We got you covered!
The Sayan House is a bar and restaurant overlooks the Ayung River valley. They offer drinks in their sunset bar right on the edge of the majestic jungle valley. Try out their mocktails and cocktails, or enjoy their Latim-Japanese fusion food.
Check out more romantic suggestions in our Ubud Honeymoon Guide.
10. BONUS: Sunrise at Mount Batur
Mount Batur is a volcano in central Bali, and it offers one of the most spectacular sunrises we've ever seen. It takes some effort to see it: it involves a 2-hour hike up in the dark of night. However a guide will help you and provide a helmet with a flashlight attached.
Once up, it will still be dark. However slowly the sun will rise, you will have a view over the entire east part of Bali. You will see the Batur crater lake, the Agung Volcano, and Lombok Island in the distance. You can book this hike with transport from south Bali (if you are staying in Seminyak, Canggu or Ubud). Expect to leave around 2AM in the morning! These tours provide breakfast on top of the mountain.
Pro-tip: After the hike, why not get refreshed in one of the natural hotsprings bordering Lake Batur?
Frequently Asked Questions
What are the best sunset spots in Bali?
The best sunset spots can be found on the South West coast of Bali: on the cliffs of Uluwatu, and the beaches of Seminyak and Canggu. Ubud offers some spectacular sunsets overlooking Ayung River, and Amed in North-Bali has a very special sunset overlooking Mount Agung.
At what time does the sun set in Bali?
The sun sets in Bali between 6:07 PM (June) and 6:41 PM (January), depending on the specific month. However don't miss out on the hour before sunset when the skies are most spectacularly lit in vibrand red and yellow colors!
More romantic Bali suggestions?
Our Bali Honeymoon Guide is a great starting point for anyone who is planning a Honeymoon or holiday as a couple in Bali.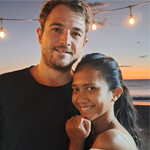 Written by Olivia & Dirk
Hi! We have put together this guide with a lot of care, based on our own experiences. As a couple, we have lived in Bali for the past 5 years, and we fell in love with the island. We have visited every corner of Bali, especially the romantic places ;-). While our articles do contain affiliate links, you can trust us to recommend only the experiences that we love.
Read more about us or let us help you organize your honeymoon for you!