Bali boasts some of the best Beach Clubs in the world. Most of them can be found facing the Indian Ocean just north of Bali's airport, near the towns of Seminyak and Canggu. Another region with fancy ocean-front Day Clubs is Uluwatu, however often they are on a cliff, so while you can view the ocean, its hard to reach the actual beach!
We believe visiting a Beach Club is a must-do during any Bali honeymoon or vacation as a couple. We have been living in Bali for over 5 years and have visited many, sometimes together as a couple and sometimes with friends. Below are our favorites.
Couples visiting Bali might also be interested in our list of best wellness, fine dining or most luxury hotels in Bali.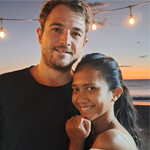 Written by Olivia & Dirk
Hi! We have put together this guide with a lot of care, based on our own experiences. As a couple, we have lived in Bali for the past 5 years, and we fell in love with the island. We have visited every corner of Bali, especially the romantic places ;-). While our articles do contain affiliate links, you can trust us to recommend only the experiences that we love.
Read more about us or let us help you organize your honeymoon for you!