Splurge on the best hotels and fine dining in Bali
There are at least two reasons to splurge a little. First of all, Bali's luxury resorts are still relatively affordable compared to the rest of the world, while offering some amazing quality and hospitality. Second of all, it is your honeymoon, why not treat the both of you on an unforgettable once-in-a-lifetime experience? This is the itinerary for a luxury honeymoon in Bali, while still experiencing the culture and nature that the island has to offer.
This itinerary will take you to the beaches of Seminyak, the mountains and lakes of Munduk, the jungle of Ubud and the cliffs and spectacular waves of Uluwatu. You will stay at the best hotels Bali has on offer and enjoy an unforgettable stay, and eat at <a href="the best high-end restaurants Bali has to offer.
Route Map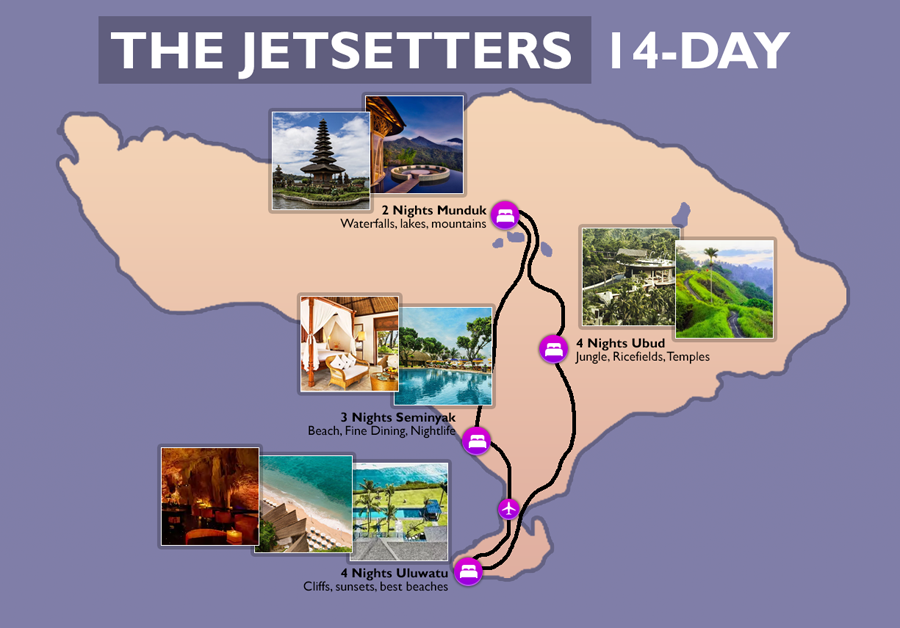 14 Days of Luxury in Seminyak, Munduk, Ubud and Uluwatu.
Day by Day
Day 1: Start your honeymoon in Seminyak, a short ride away from the airport. We believe The Oberoi is a great 5-star beachfront hotel to stay at.
Day 2: You may want to take it slow after a long flight. Enjoy the beach and pool overlooking the Indian Ocean. Experience the great dining at the resort (consider booking the romantic beachfront private dining package).
Day 3: Have a look around trendy Seminyak, famous for its boutique shops and art galleries. You may want to visit a beach club for a day, Potatohead is a popular choice. Consider booking the surprisingly affordable fine dining experience at Sangsaka (a 10 minute taxi inland, we've been here and loved the experience).
Day 4: Time to explore Bali. Today we're taking a taxi all the way up to the mountain region of Munduk. Ask your driver to make a one hour stop at the iconic Ulan Danu Temple on Lake Beratan on the way. Its a bit cooler in Munduk, so you might not regret booking the Panorama Villa with private Jacuzzi at Elevate Bali, located on a volcanic ridge towering over Bali.
Day 5: You may explore waterfalls (Banymala Waterfall) and lakes (we love the off the beaten path Tamblingan Lake), or even consider an early morning dolphin watching trip on the North coast of Bali in Lovina. Your best bet for dinner is at the Clouds restaurant in your hotel, or the Ulekan restaurant at Munduk Cabins. For more ideas, check our Munduk Honeymoon Guide.
Day 6: Today we're driving to Ubud, the cultural heart of Bali in the middle of the jungle. Plenty of high-end hotel options here: consider the Four Seasons Sayan Ubud or check some of the other amazing options listed in our article on the Most Luxurious Bali Hotels.
Day 7, 8, 9: Enjoy everything that Ubud has to offer. Cultural experiences: Ubud Palace or the Agung Rai Museum of Art. Fine dining: Locavore, one of Asia's 50 best restaurants, or Room for Dessert, made famous by Netflix. Nature: Tjampuhan Ridge Walk, sunset at Sayan House overlooking the jungle. Active: consider rafting on the river right next to the Four Seasons.
Day 10: Heading to our last destination: Uluwatu. The Bulgari Resort Bali is amazing, right on the cliffs with a private beach that is actually one of the prettiest beaches Bali has to offer. A truly excellent way to wrap up your Bali honeymoon.
Day 11, 12, 13: There's a few things that you should not miss on a true luxurious Bali honeymoon. Fine dining in The Cave Bali is an experience that won't be forgotten quickly, between plates a lightshow will illuminate the actual cave that they turned into a restaurant. The Istana Spa is a spectacular sauna complex on a cliff (tip: book the sunset slot around 6PM to overlook the sun setting over the Indian ocean). If you haven't seen a kecak fire dance in Ubud yet, consider visiting the show at Uluwatu Temple, which perfectly aligns with sunset. Many more ideas can be found in our Uluwatu Honeymoon Guide.
Day 14: Unfortunately, it is time to go. Fortunately the airport is only 30-45 minutes away from Uluwatu. We hope you had a blast!
For variations of this luxury itinerary, check out some other high-end Bali hotels that we recommend all across the island.
Other hotels
While we believe the hotels above are all spectacular, but there are many good options to choose from. Check out the articles below for more great hotels:
More Bali Itineraries
Based on our 5 years in Bali, we have crafted 8 Bali itineraries with care. Check the full list below or read more information on our Bali Honeymoon Itineraries.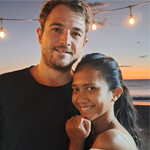 Written by Olivia & Dirk
Hi! We have put together this guide with a lot of care, based on our own experiences. As a couple, we have lived in Bali for the past 5 years, and we fell in love with the island. We have visited every corner of Bali, especially the romantic places ;-). While our articles do contain affiliate links, you can trust us to recommend only the experiences that we love.
Read more about us or let us help you organize your honeymoon for you!